How a Rare Thyroid Cancer Diagnosis Inspired My Largest Work of Art So Far
If someone would have told me 7.75 years ago after my cancer diagnosis that I would be making an 18-foot long, 12-foot high and 30-inch deep large-scale paper sculpture installation I never would have believed it. And if I never got cancer, this installation never would have happened.
In 2012 I was diagnosed with a rare form of thyroid cancer — there are still less than 100 cases in the world. Two surgeries later and a round of radioactive iodine (RAI) treatments, I am thankfully in remission and cancer-free. Like many patients, however, it was shocking news to learn I had cancer.
After hearing about the long road of treatments ahead, I was concerned about how I would be able to continue working. I built my career illustrating for children's publications and various other freelance assignments. Freelance illustrating comes with tight deadlines, often requiring sketches and final art to be done within a two- or three-week time frame. You have to meet your deadlines, or you will lose your client and your reputation.
When I got that cancer diagnosis and learned what it involved, I already felt like I was losing enough. I didn't want to lose my work as well. I love being an illustrator.
It was suggested to me I should take a little break from freelance illustrating and use the time to reflect about what I want to do next creatively. It had been years since I had taken a step back to play around with my art, experiment and see what happens. I asked, "What's really important to me?" It came down to this: The celebration of God, family and the simple joys in life, especially in nature.
There was so much going on at that time in my life, not just the cancer diagnosis, and my art played a big role in providing me a safe escape where I could take a break from all the scary thoughts that a cancer diagnosis can consume you with — will I survive, what about my kids (thankfully they were already grown, but once a mom, always a mom), and of course, my dear husband. My close-knit circle of friends and my family helped me get through it all. I couldn't have done it without their support!
The time I took to step back and reevaluate my work was a process of reflecting back while also trying to look forward in a very uncertain time in my life. For me, art truly is therapeutic. Art is what carries me through. While I reflected back on my life and career, no matter what medium I landed on, I know I wanted my art to help other people, to provide them a safe escape too.
I have always loved the idea that I can use my art to strengthen family bonds, from young children to parents and grandparents, sharing in an experience created through my work. My line of Can You Find? hidden object greeting cards are a good example of that. It might start as a game for kids, but soon everyone is drawn into the fun, bringing family members together for a moment of joy. I have illustrated many activity pages throughout my career — mostly around nature themes.
I thought perhaps I could also use my art to capture snapshots of beautiful moments in time — those little pockets of joy in nature or with family we often take for granted. After all, a meaningful life is built by stringing these seemingly small moments together and cherishing each one with the people we love.
I began to think about the scenes that played most clearly in my memory — my grandfather's sprinkling can, ants marching on a bleeding heart, the delight of catching a butterfly in flight — and how I could bring them to life through an art medium. I love illustration using watercolor, gouache, or pen and ink, but I also really like working with paper.
When I was a teenager, I had a small business selling quilled decorative items at craft shows with my sister. After college, and once I started my professional illustrating career, I tried to hide the quilling paper in the attic, thinking I would never do it again. But somehow those quilled shapes — whether hauling back out that paper or even in my illustrations — kept finding me. Even my very first letterhead I designed for my illustration business was a pen-and-ink line drawing of a quilled border.
In the end, I realized I didn't have to choose between paper and the paint mediums I love — I could combine both.
I thought it would be fun to see if I could take a flat, watercolor illustration, and bring three-dimensional elements into the painting, seamlessly blending the two in order to create a flow between different dimensions. This is how I began to develop my paper sculptures.
While I hope there's a day nobody ever has to go through cancer, if I didn't get cancer, I never would have built a signature style that truly shows who I am as an artist and as a person. That's partly why this large-scale "Charming Victorian Country Garden Retreat," open now at the Mansion at Strathmore, means so much to me. It's a joyful celebration of how far I've come on my journey, both personally and professionally, and a symbol of how much is possible moving forward.
I imagined for this installation sitting on a porch enjoying a cup of tea while reading a book or sketching, all while taking the time to slow down and enjoy the surroundings. You can watch a kitten play with a ball of string, see the chipmunk collect acorns, follow butterflies as they flutter around blooming roses all while hearing birds chirping in the background.
Moments similar to these are happening all around us every day, often rushed past or taken for granted. But I cannot imagine a world without these little moments, and I want you to slow down and savor them with me. I am thrilled, honored and so excited to be part of the Paper Works show, which is open through Oct. 31, at the Mansion at Strathmore in Bethesda, Maryland.
My art celebrates family and bringing families together as they discover all the surprises hidden in my work. It's all made out of paper and watercolor and gouache. And hopefully "Charming Victorian Country Garden Retreat" will remind people that it is the little moments in life — in our surroundings, in our own habitat, as well as in nature's habitats — that are the most important and should be taken care of, nurtured and loved.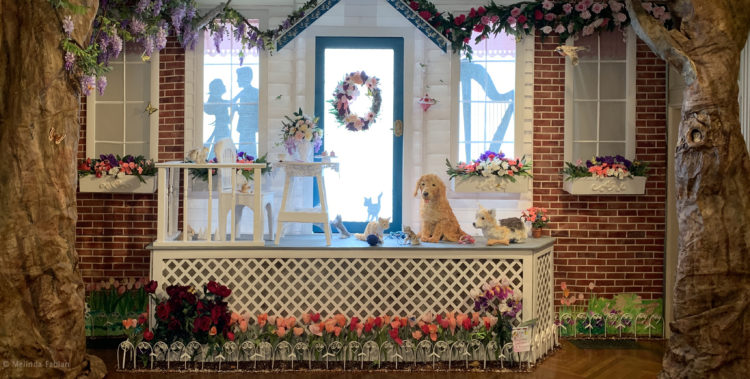 The Paper Works show is open through Oct. 31 in Bethesda, Maryland. Learn more about the Paper Works show here.
This post originally appeared on Melinda Fabian's blog.